Laminated Glass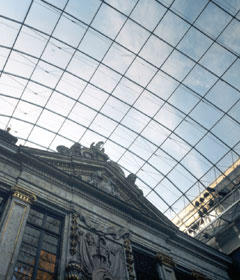 Every combination of glass is possible and also all kinds of colours PVB. We use European PVB in our laminated glass that is made by top producers.
Popular combinations are:
- 331 (6,38)
- 332 (6,76)
- 441 (8,38)
- 442 (8,76)
- 551 (10,38)
- 552 (10,76)
Combinations of all possible type of glass are possible : clear glass with clear glass, clear glass with coloured glass, reflective glass with clear glass , reflective glass with coloured glass. Also , the colour can be reached by applying coloured PVB between clear glasses. As the PVB is produced in an industrial environment, the colour is allways stable.
We can also supply you bulletresistant laminated glass resistant against all kind of classes of guns / rifles / machineguns / riots etc.
Also we can supply accoustic control laminated glass that gives good isolation against unwanted noise from cars, airplanes, streetnoise etc.