Processed Glass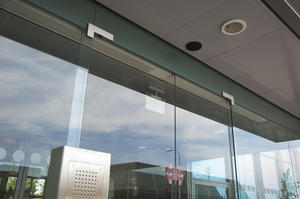 We can supply topquality processed glas that you you might need for all kind of applications.
Processed toughened or tempered glass is glass that has been processed by controlled thermal or chemical treatments to increase its strength compared with normal glass. Tempered glass is made by processes which create internal stresses which give the glass strength. It will usually shatter into small fragments instead of sharp pieces when broken, making it less likely to cause severe injury.
Processed laminated glass is a type of safety glass that holds together when shattered. In the event of breaking, it is held in place by an interlayerof polyvinyl butyral (PVB), between its two or more layers of glass. The interlayer keeps the layers of glass bonded even when broken, and its high strength prevents the glass from breaking up into large sharp pieces. This produces a characteristic "spider web" cracking pattern when the impact is not enough to completely pierce the glass.
Laminated glass is normally used when there is a possibility of human impact or where the glass could fall if shattered. Skylight glazing typically use laminated glass. In geographical areas requiring hurricane-resistant construction, laminated glass is often used in exterior storefronts, curtain walls and windows. The PVB interlayer also gives the glass a much higher sound insulation rating, due to the damping effect, and also blocks 99% of transmitted UV light.
Clear tempered float glass in the range from 3.2 to 15mm thick, the quality is in accordance with the Europeen Standard EN-12150-1. Applications for example are: glass shelfs, glassdoors and table, glass for busshelters, glass for advertisementpanels, glass for icehockeyrings, showcases, shopcounters, basketballboards.
All kind of tempered floatglasses can be screenprinted with strong ceramic paint ( logo printing or printing full surface ) ,all RAL colours are available. The paint is applied to the glass before tempering so the paint is "baked"on the surface of the glass during tempering which guarantees a long lifetime of the screenprinted area.
For glassdoors we can cut any notch you need for applying the hinges or locks and we can drill any hole you might need ( diameter 2-30mm ) for applying the handle.
We can supply you tempered screenprinted floatglass and tempered screenprinted laminated glass.Every combination of laminated glass is possible. We screenprint any logo or mark on the glasses or we screenprint the tempered glass in full with strong ceramic paint
We can supply tempered bended floatglass and tempered bended laminated glass for roofing, balconies etc.
In our wide range of products we can also supply processed mirrors. We polish the edges according to your wishes : flat or round polished edges, flat or round grinded edges.Also bevelling the edges of processed mirrors is possible.
We can apply safetybackfilm on the back of the mirrors for safetyreasons ( the glass sticks to the film when the mirror breaks ) The mirrors can also be supplied as slidingdoors, usually applied with safetybackfilm on the backside.